Apartments
We have six 2-bedroom apartments and two 1-bedroom apartments. Each has a kitchen, living room, bathroom, and balcony overlooking the water. All are equipped with dishes, pots and pans, silverware, microwave, toaster and coffee maker.
Oak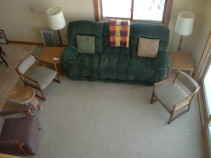 Oak is by far our largest unit. At 1500 sq. ft. it is almost twice the size of the other units. The first floor has a kitchen, dining area, living room, laundry, and master bedroom with private bathroom. Upstairs is a second bedroom, second bathroom, and loft. The master bedroom has a queen bed; the second has a king bed. The loft has two single beds, a futon single size, and a queen size mattress pad on the floor.
Cypress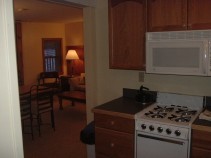 Cypress 1 and 2 are a major renovation on the second floor of our main building. Each has two bedrooms (queen, two singles), a new kitchen, new bathroom, and living room.
Hickory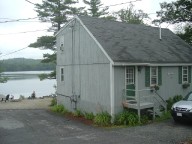 Hickory is a two-story duplex next to the beach. Each side has living room, kitchen, bathroom, and one bedroom with twin beds on the first floor. Upstairs there is a large second bedroom with queen bed and second bathroom. Both floors have balconies. The lower balcony has stairs about four feet down to the main beach.
Willow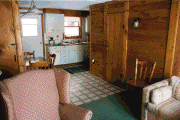 Willow is a two-bedroom apartment with living room, dining area, full kitchen, bathroom and one bedroom with queen bed on the first floor. Upstairs there is a large second bedroom with twin beds.
Maple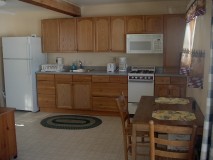 Maple is a large one-bedroom apartment on the lowest level of our main building, just a few steps from the water.
Pine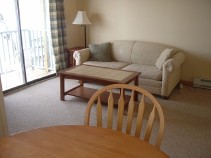 Pine is a new one-bedroom unit on the ground floor of our main building.
Cottages
Goldenrod, Birch, Sugarplum, Laurel, and Ladyslipper.